Spiral Stairs – Design the steps of your house
Modern day architecture is a form of magnificence in space constrained constructions, when it comes to staircase nothing suits best than winding up spiral stairs. Be it any material spiral staircase just looks fine with any setting of interior decor. You can make it imitate the vintage style or flip it with fresh new adaptations; it will continue to be an appreciable piece in your in-house styling list.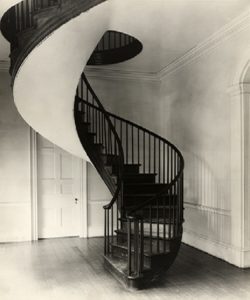 Vintage variations of woodwork:
Wood has its own timeless appeal just like the spiral winding of up-uppity-up stairs. A stainless steel structural support provides both the base to attach the foot-hold and to give a hand rest; however the same could be carved out of wood entirely. The shape of the stair gives a huge scope for innovations and alterations, instead of the monotonous elongated trapezium one can use opal shaped pedals. Even rectangular piece of thick wood board as with a circular finish at the open end looks quite exquisite. But make sure not to distort is charm by adding hand-hold if at all needed should be only a continuous rod throughout its entire length; so that the staircase seems entirely floating.  Further wood in combination with glass or iron settings also looks absolutely stunning. While glass adds to the glam, iron offers longevity and less hassle for up-keep.
Groom with Glass:
Glass is the hot favourite of the generation X, the contemporary styling aims to bring about maximum effects with light. Specialised glabs are being manufactured to meet the requirements for staircase designs; special thickness to withstand the weight and abraded texture to enhance more grip are the prominent customization of glass steps to offer optimum safety along with "glide the way up" feel. Led illumination is the cherry on the pie; the refractive index literally makes the staircase shine brightly in dark which certainly is amusingly mysterious to gaze at. Glass walled creations are also substantial part of up-to-date style; however the stairs in this case need not to be necessarily glass and can be of assorted geometry.
Alchemy:
The mix-match of various materials with a little imagination has lead to extraordinary eclectic styling of staircases. Bolt in glass plates specialized to serve as stairs, led will further highlight the free alignment. Circular shaped glass can be of concentric diameter as well, hanged firmly from ceiling by iron rope at sequential heights; a graceful addition to dimly-lit places. Another unique approach is of staircase with a base but free from any associated structural support on or above the foot-plate. Wooden pieces of tripod with a flattened top of different stature bolted to the ground; for higher steps one can also employ wooden arch secured to the wall on the elevated end. Keep the pedestal grooved for designing purpose, can feed in pebbles or wood peels and seal it with glass covering. Place small spherical white lights on the wall closest to the staircase at regular intervals beaming towards the steps; be ready to witness the different expressions of appreciation from people.
Stop Noise specializes in double glazed windows retrofit, that provide your home with style, comfort & efficiency. Contact us today for noise control in Melbourne.